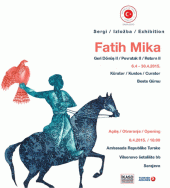 'Exhibition entitled ''Return II'' by Fatih Mika, meets art lovers in Sarajevo…
The exhibition entitled 'Return II'by Fatih Mika, projected by "Ŭstanbul Intercultural Art Dialogues Association (ŬKASD)",will be inaugurated at the premises of the Embassy of the Republic of Turkey in Sarajevo on 6 April 2015.
Hosted by Ambassador Cihad Erginay and curated by Beste Gürsu, the exhibition will remain open on 6 April – 30 April 2015, at theEmbassy of the Republic of Turkey in Sarajevo.
The common feature of the works displayed at the exhibition which consisted of gravures done by the artist at different phases was the fabrics of natural and traditional culture of Istanbul where his childhood had been spent.
For the first time the artist will be presenting a conglomeration of works born out of his relationship with traditional Turkish arts such as painted chinaware, the 're-interpretation' of the art of miniatures in addition to gravure of fish, birds, flowers.